This quote really helped me when I was accepting the fact that my eating is disordered.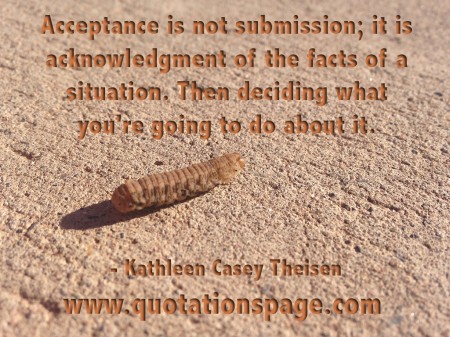 It reads:
Acceptance is not submission; it is acknowledgment of the facts of a situation. Then deciding what you're going to do about it.
Last year in October, I came to the stark realization that my brain was BROKEN and there was never going to be a cure for this hunger I have all the time. When I watched The Skinny on Obesity, I realized that I have ZERO control over my eating. Here are those videos from the University of California here:
These videos left me in a pretty hopeless state. I realized that I was going to be hungry all the time and that there was nothing I could do to fix my brain.
After a year and 59 pounds lost, I am no longer hopeless. My brain is still broken and my unnatural hunger kicks in at times, but my life is much more calm now because of Overeater's Anonymous. They also believe that disordered eating is a disease that is currently incurable. This acceptance of my problem has helped me so much over the last year.
For so long, I refused to accept that I had a disease. I refused to accept that I couldn't control my eating. Somehow, that made me feel like I was giving up. I thought acceptance was a cop-out. It was a way to pass off the blame on my broken brain.
Instead, it has freed me to take action that has worked when everything else did not. My brain is broken. I'm going to be hungry and want to eat at times when I just don't need food. In fact, I can't trust my hunger signals at all because they are almost always wrong. Accepting this helps me devise ways to work around it, with methods like Re-feeding.
Accepting that I am sick and will probably never see a physical cure in my lifetime has helped me get 59 pounds closer to a healthy weight. It has done what nothing else has been able to do for me for the last ten years.
If you are feeling like you just have NO control over your eating, then get yourself to Overeater's Anonymous and get a sponsor. That simple statement has literally saved my life this year and it can save yours as well.
---
Overeater's Anonymous does not endorse anything on this entry or blog. I speak only of my personal experience and not for OA as a whole.
Previous: Naked Ladies and Food
Next: The Universe Will Reward You

Leave a Reply
-