I saw this quote and it made me realize that it doesn't take a HUGE effort to get healthy and stay there.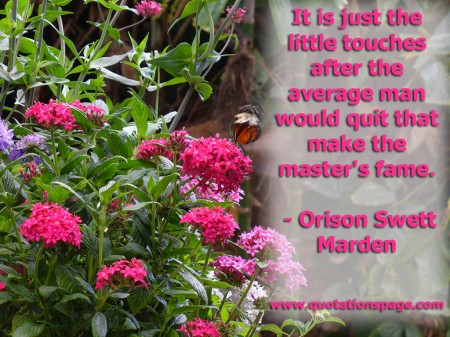 It reads:
It is just the little touches after the average man would quit that make the master's fame.
It doesn't take grueling workouts or starvation to get to a healthy weight. You just have to KEEP GOING. It's the Christmas season and it's the time when everyone quits their healthy diet and exercise and proceed to gain ten to fifteen pounds. If you just add those little touches to your masterpiece, you wouldn't have to face grueling workouts and starvation in January.
DON'T QUIT right now. THIS MONTH is the "little touch" to your program. Just like that extra effort that a master painter would make to her work, this is your little touch to your program. The average person quits during December, but keeping up with your eating and exercise routine is the difference between you and the average person. It's what will make you a master.
Previous: Don't Break The Chain 2015
Next: Naked Ladies and Food

Leave a Reply
-