I saw this quote today and it shocked me at how BAD I am at this: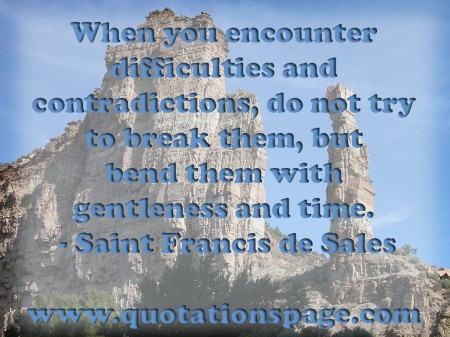 It reads:
When you encounter difficulties and contradictions, do not try to break them, but bend them with gentleness and time.
Whenever things have gotten harder in my weight loss journey, I have attacked things with stricter eating and more intense exercise. That has always led to a binge for me. I have never just tried to be gentle with myself and give myself time. I've done the polar opposite and gotten horrible results.
If you run into problems, try this radical idea. Just keep doing what you've been doing. You are at a plateau? Just keep doing what you're doing. Don't increase your workouts. Don't change up your food. Just keep eating the calories you're supposed to eat to lose weight safely. Just keep doing moderate workouts.
Give yourself gentleness and time.
Previous: Everybody Here Is A Friend of Mine
Next: Overeaters Anonymous Public Service Announcement

Leave a Reply
-