This postcard from PostSecret made me so sad for the person who sent it in.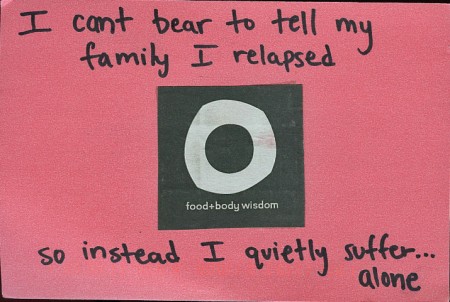 It reads:
I can't bear to tell my family I relapsed so instead I quietly suffer… alone.
I wouldn't have thought this was about an eating disorder until I saw the "food+body wisdom" circle pasted in the middle. After a little research, I found that it is for Opal, which is a clinic in Seattle, Washington for those with disordered eating.
The person who wrote the postcard is not only aching from the relapse and all the pain in which that encompasses, but from the exorbitant cost her family paid to put her through Opal in the first place. They might accept your health insurance, but they are VERY clear that they are a paid facility with the comment, "Prior to receiving services, every effort will be made to verify insurance eligibility and benefits and educate clients about possible financial obligations. We accept check and credit card for any out of pocket financial obligations."
There is a way to get help without admitting yourself to a facility that is going to bankrupt your family. Get yourself to Overeaters Anonymous. Find a meeting here:
You might not be able to be honest with your family, but you are sure to feel more at home with a room full of people who have the same problem as you do. Binge Eaters, Bulimics, and Anorexics are all welcome there. Your only requirement is that you want to stop being sick about food. You don't have to burden your family with "financial obligations." You can get help with us.
---
Overeaters Anonymous does not endorse anything on this entry or blog.
---
PostSecret's beneficiary is the National Hopeline Network. It is a 24-hour hotline (1 (800) SUICIDE) for anyone who is thinking about suicide or knows someone who is considering it.
Previous: You Must Learn from the Mistakes of Others
Next: Mistakes Show Us What Needs Improving

Leave a Reply
-