This quote reminded me of how I used to think.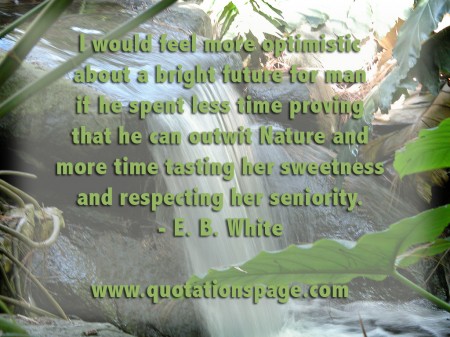 It reads:
I would feel more optimistic about a bright future for man if he spent less time proving that he can outwit Nature and more time tasting her sweetness and respecting her seniority.
I grew up watching The Jetsons and Disney's cartoons about the House of the Future. I was told that I would have "Better Living Through Science."
And I do.
I sincerely do have a better life because of a myriad of scientific discoveries and technological breakthroughs. But some of the promises turned out to be harmful instead of helpful.
For example, take that miraculous Monsanto Wheat that can grow in the winter. It has saved thousands from starvation, but I truly believe that it is part of the reason I was so sick for so long. Maybe the pre-GMO wheat would have made me just as sick, but now I cannot even eat that without pain.
Or perhaps, that idea that we'll be able to eat all our meals in a single pill. That IS true. We could eat three or four protein bars a day and have almost all the nutrients we would need to stay alive. But eating to stay alive isn't what I have ever needed to do. I was eating to feed something else.
I have found that when I "taste the sweetness and respect the seniority of Nature," I enjoy life more and FEEL better. I used to eagerly await the day when machines would spit out the exact calories and nutrients I needed for my own personal system. Now, I just grab an apple and some almonds.
Previous: Mini Rosary Bracelet
Next: Congratulations to Kelly Osbourne

Leave a Reply
-