I saw this quote today and it made me think: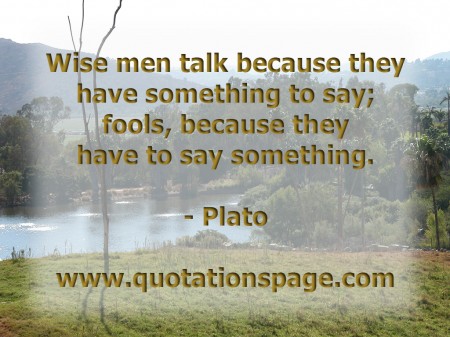 It reads:
Wise men talk because they have something to say; fools, because they have to say something.
So much of my talking is because I have to say something instead of having something to say. I like to think that I'm providing a service to those poor, shy people by yakking up a storm, but instead, I am revealing my insecurities to the world.
I'm scared of the quiet.
When things are quiet, I imagine that the other person is stewing and thinking bad thoughts about me. If they weren't they'd talk, right?
WRONG…
Sometimes there is just nothing to say. Sometimes it's okay for things to be quiet. My filling the air doesn't stop the other person from thinking bad thoughts about me. In fact, my careless words might give them something bad to think.
The act of shutting my mouth and letting the other person talk or even allow there to be silence is difficult for me. It's one act that I need to learn and practice so that I can be a better person.
Previous: The Second Wave of Fitness Bands
Next: Better to Look Weak And Be Strong

Leave a Reply
-