I did a Google image search for the phrase, "Halloween Temptations," and this a snapshot of what I got: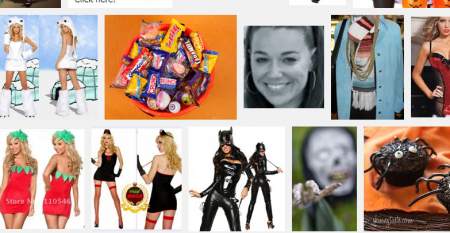 I really don't know how I feel about this. The sexy girl costumes outnumber the candy images about three to one.
What does that mean?
Honestly, I think they are both related. We are tempted by Halloween candy, but we are also tempted by that idea that we could be the sexiest girl in the room. BOTH of those ideas are a problem. The first is misusing food as a recreational device and the second is feeding pride instead of humility.
There is nothing wrong with sexy Halloween costumes. It's the feeling of wanting to be the cutest girl in the room that sets up a judgment that is unfair both to us and everyone else in the room.
For me, the Halloween candy and black spider cupcakes are a far less temptation than that desire to be the girl that everyone notices. Wanting to be the best has hurt me so many times that I have learned that it's an indication that there is a problem in my life. Wanting to be the girl in the black cat costume is DANGEROUS. Ironically, it will MAKE me eat.
The next time you have the temptation to be better than the people around you, take a moment and remember that we are all the SAME. No one is higher or lower than you. We are all on equal footing and every time we try to prove that isn't true, we are treading on dangerous ground.
Previous: Want To Eat? Help Others.
Next: Manifest Plainness

Leave a Reply
-