I found this quote today on The Quotations Page and it really spoke to me.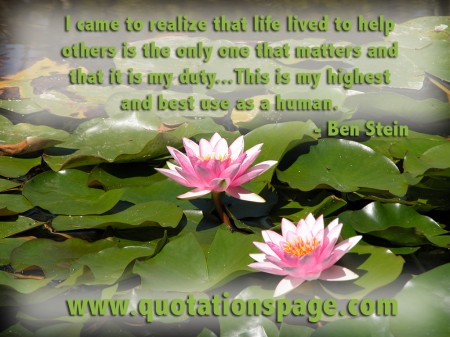 It reads:
"I came to realize that life lived to help others is the only one that matters and that it is my duty…This is my highest and best use as a human."

Ben Stein, E! Online, 12-20-03
The Big Book of Alcoholics Anonymous says that when you want to take your first drink, you should admit your problem to another person and then immediately try to find someone else to help. It doesn't specify that you need to find another alcoholic. It doesn't matter WHO you help, just that you help someone else.
This is GREAT advice when I'm thinking of eating when I shouldn't. If I just pick up the telephone and call someone else asking if they need help, I find relief. I don't even need to help them, I feel better just calling. Ironically, I don't even need to TALK to them. I feel better if I just leave a message. All I need to do is try to THINK about someone else and their problems and the desire to eat evaporates.
---
Overeaters Anonymous and Alcoholics Anonymous do not endorse anything on this entry or blog.
Previous: Hoping for a Taco Truck
Next: Halloween Temptations

Leave a Reply
-