I saw this comic fromThree Panel Soul the other day and it made me cry.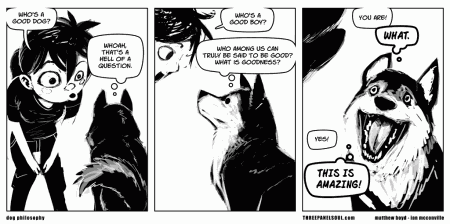 It reads:
Owner: Who's a good dog?

Dog: Whoah, that's a hell of a question.

Owner: Who's a good boy?

Dog: Who among us can truly be said to be good? What is goodness?

Owner: You are!

Dog: What?!

Owner: Yes!

Dog: This is amazing!
When I saw this, I felt like I was the dog, contemplating goodness and feeling completely unable to live up to it. When the owner said, "You are!" I felt just like that dog, in denial, yet, hoping it was true. "What?!"
ALL of us are like that dog. We feel that we are not good enough. We feel that true goodness is unattainable with our flawed selves. We just need that owner. We just need to know that someone thinks that we are good. Someone who is better than us thinks we are worth it.
Every one of us has that unseen owner within our own minds. It is the aspect of your mind that you are not able to access at all times, but you see glimpses of it when you are dancing or singing along with the radio. Maybe you can catch it watching you as you meditate or when you are working very hard on a project you care about.
Get in touch with that part of your brain. It thinks you're good. It wants to tell you that every day, but you can't hear it because the noise on the television is too loud and the headlines of the newspaper are blocking your vision. If you can teach yourself to listen for it and listen to it, then the appeal of food won't attract you as much anymore. It will be a dull attraction rather than a siren song.
For more info, I have an entire category of posts to get you in touch with that unused portion of your brain: Starling Fitness – Inner Workouts
Previous: There's No Pumpkin In Pumpkin Spice Flavoring
Next: I'm Lazy

Leave a Reply
-