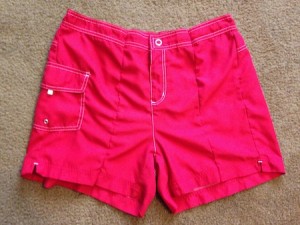 Board shorts. If you've never seen them, they're like regular shorts, but they are made of material that works well with swimming. They dry quickly and they don't chafe as much when they are wet. They're shorts for when you are surfing the waves or kayaking the lake. You're gonna get wet, but you don't want to do it in a skimpy bikini.
They're also kind of hard to find if you're over weight and IMPOSSIBLE to find in the early Fall.
So, when I pulled on my board shorts Labor Day weekend to go boating, I panicked because they were so big that they were falling off my body. I had no idea my body had changed so much since I had last put them on (which was June 2012). I cinched them up with a couple of safety pins and the quick fix worked for the day.
So, when it came time to go boating the next weekend, I planned ahead. I went to the local stores in search of some new board shorts. I could find many swimming suits on clearance, but no board shorts in plus sizes. They're rare at the beginning of the season, but NON-EXISTENT in early Fall. So, I did what my grand-momma taught me and I took them in.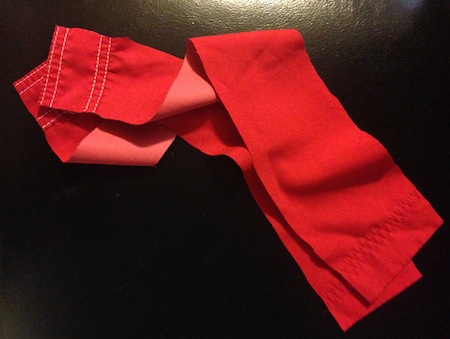 I ended up removing a full three inches. THREE INCHES!
That seems like a HUGE amount, and that doesn't even account for the seams, so I probably took it in a total of three and a half inches. I just measured and on the shorts that I haven't altered the waist measures 40 inches. On the altered shorts it's 35 1/2 inches. FOUR AND A HALF INCHES!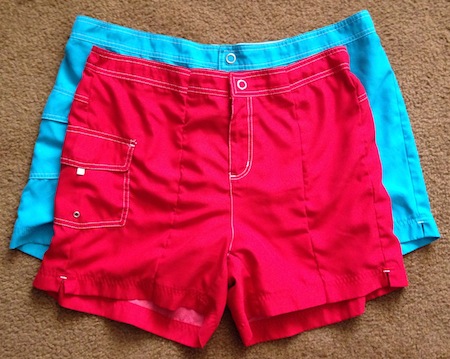 Now, a 35 1/2 inch waist is nothing to brag about. It's a LONG way from anything anyone would write a song about, but there is progress.
Progress that I just CAN'T see. When I look in the mirror, I still feel super fat. Honestly, I AM super fat. I weigh 179.7 lbs. On a 5'2″ frame, that is a lot of bulk. Sure, I used to weigh 231.1 lbs. BOTH of them are obese. Not only that, I feel the exact same as I did 52 pounds ago. I'm sure I could compare pictures, if there were any, but I FEEL the same.
Okay, that's a lie. I DON'T feel the same, but all the changes that I can feel are inner changes. I'm less likely to bite someone's head off. I'm more apt to apologize quickly. I'm calmer when someone is rude to me. And I don't need to eat over any of those things. THOSE are the changes that I can feel.
Until I was confronted with that excess fabric I had shorn from my board shorts, I was unable to see any physical changes. All the changes I had experienced were of the emotional kind. It's amazing how a few inches of excess fabric can show me what mirrors can't.
Previous: The Apple Watch: OMG! DO WANT!
Next: An Extra 2,500 Steps A Day

Leave a Reply
-