There is a more vulgar version of this floating around Pinterest, but it wasn't that pretty and I really wanted one that didn't swear, so I made one.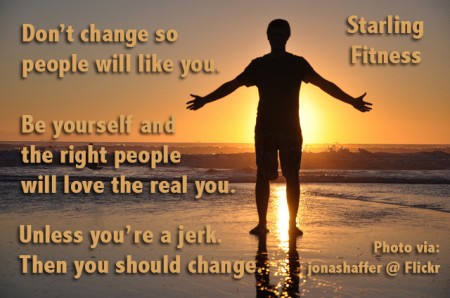 It reads:
Don't change so people will like you.

Be yourself and the right people will love the real you.

Unless you're a jerk. Then you should change.
Sure, we get a little laugh from this, but the truth is, I am a bit of a jerk. I'm probably a colossal jerk, if certain people are to be believed. When I went through my Twelve Steps, I was brought face to face with exactly how much of a jerk I really am.
And I had to APOLOGIZE!
Not only that, I had to make it right.
There were some people on my amends list whom I couldn't contact to apologize. They were the hardest people to work through my amends. In the end, my sponsor had me write a letter to them.
Then she made me write ANOTHER letter, because I was STILL a jerk in the first one.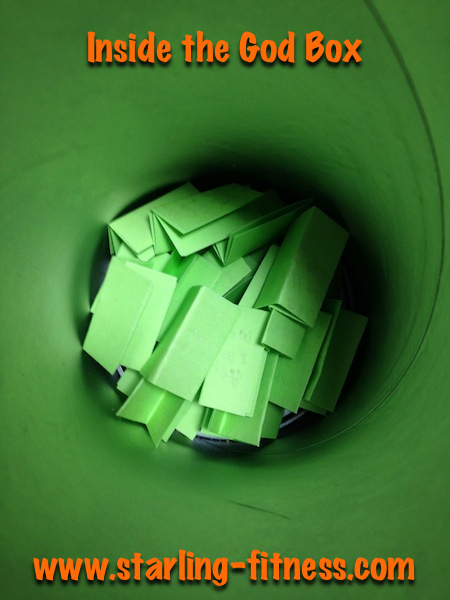 When I read her the second draft, she said it was acceptable and to put it in my God Box. I folded it up as small as it would go and it's still in there, tempting me to pull it back out and read it. But the guilt from all my jerky behavior is gone. I did the best I could to apologize in the situation I was in.
And honestly, I'm still a jerk.
I'll probably be a jerk for the rest of my life, but I'm doing the best I can to not be a jerk. And I'm apologizing quicker when I am.
What does this have to do with health and fitness?
I haven't binged since I wrote those letters freeing me from the past. Despite my lack of belief in a god, writing those letters and handing them over to my God Box helped me. I have no idea how the act of folding those letters up into tiny rectangles and hiding them in a discarded Pringles can released me from my past jerkiness, but they did. Not only have they helped me keep my bingeing at bay, they have helped me to be a tad less jerky so I don't have new situations to apologize for.
So, given the option to be myself and be a jerk or to change, I chose to change as best as I can.
Image via: Hunington Sunset by jonashaffer | Flickr
Previous: What Are Your Favorite Songs To Run To?
Next: The Apple Watch: OMG! DO WANT!

Leave a Reply
-