I haven't played Animal Crossing in quite a while, so when I saw Tank, I was so happy to help him. He said he was hungry and wanted some fruit, so I grabbed him a perfect pear. Perfect pears are worth A LOT of money in the game, but I have so much money that I don't really care and I really missed Tank, so I gave him one. After he ate it, this was his reaction: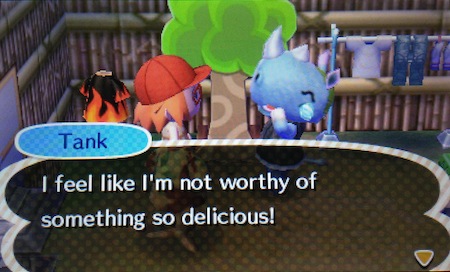 He said,
I feel like I'm not worthy of something so delicious!
Then he cried profusely.
It felt so sad to me to think that Tank didn't feel like he was worthy of a perfect pear, but honestly, I have felt the same thing. When I am deep into the facet of my disease that makes me limit my food too much and exercise too much, I have felt unworthy of delicious food. I truly believe that feeling of unworthiness is an aspect of my eating disorder. It's why I restrict my eating so much.
At the same time, it is also the reason I binge. I may feel unworthy of such delicious food, so when it is offered to me, I eat it to prove that I'm worth it. I've been a good girl, so I DESERVE this food, don't I? People who are good get to eat delicious food, right? So, I must be good if I eat it, aren't I?
The truth is, I am worthy. I AM a good person. I don't need to eat a perfect pear or any other food to prove that I am worthy. I don't need to refrain from eating a perfect pear or any other food to make myself worthy. In fact, whether I FEEL worthy or not is irrelevant. I might ALWAYS feel unworthy, but that doesn't change the fact that I am worthy.
Previous: And This, Too, Shall Pass Away
Next: I Was In No Mood To Eat One

Leave a Reply
-