I read this quote the other day and it really made me think: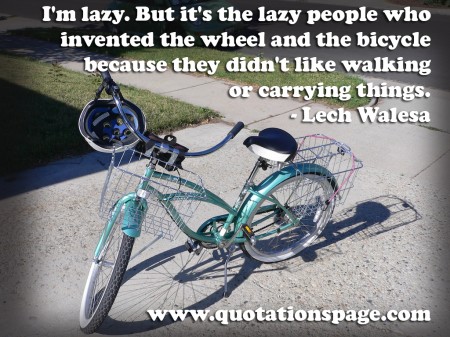 It reads:
I'm lazy. But it's the lazy people who invented the wheel and the bicycle because they didn't like walking or carrying things.
For years, I have thought this to be true. I've thought that my laziness was a GOOD thing because it made me invent better ways of doing things. But when I look at it honestly, ONE important question comes to mind.
What EXACTLY have I invented?
Sure, I've found quicker ways to put away the dishes and clothes after they've been cleaned, but aside from that, laziness has done nothing but HARM me. It's one of those character defects that I cling to with the flimsy excuse of finding a "better" way.
Guess what? There is NO better way to stay thin than to eat properly and exercise. You can't escape it. There is no bare minimum to eat that won't throw your body into starvation mode. There is no time when I will be so thin that I won't have to exercise every day. It's just not going to happen and clinging to that hope is just me living in denial and choosing laziness over recovery.
The next time you're thinking of skipping your workout and deciding that there MUST be a better way, think about this. The next time you see an infomercial for an exercise machine or pill that promises a workout without the sweat, think about this. There is NO other way. Discard your laziness and come to the stark realization that a healthy body REQUIRES exercise, industriousness and work.