I read the headline to this old Sara Lee advertisement and I thought to myself, "THAT! That was my problem for so long!"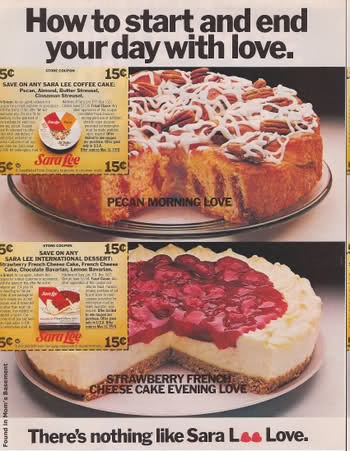 It reads:
How to start and end your day with love.

Pecan Morning Love

Strawberry French Cheesecake Evening Love
That's what we all want, right? We want to start our day with love and we want to end our day with love. The only problem with this ad is the idea that it comes in a pie tin.
I'm not villianizing pie and coffee cake, mind you. You can work a slice of pie into your diet as well as any other high calorie food. I'm just pointing out that sweets and desserts are NOT love.
Love is a hug. Love is a kind smile when we make a mistake. Love is a calm and loving response when we have a bad day. Love is NOT food.
Oh, but it can FEEL like it sometimes. That's why it fools us. Sometimes love MAKES a pie, but it's the person who made the treat, NOT the treat that is the expression of love. Don't get fooled.
Or maybe love isn't around, but there's pie and when I eat it, it ALMOST feels like love. Yeah, that dopamine response is good, but honestly it's not THAT good. It's close, but a hug is much, much better.
So marketing is doing what marketing does best and fools me into thinking that a Sara Lee coffee cake IS love, but they are wrong. So how can I do it? How do I start and end my day with love?
GIVE IT AWAY.
If you want more love in your life, you MUST be the first one to give it away.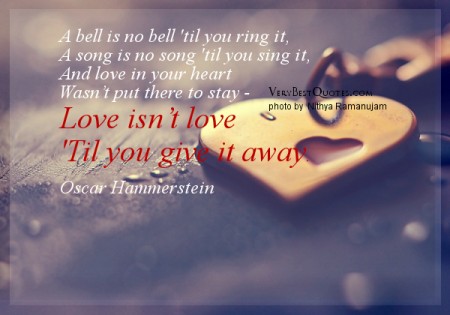 I know it sucks that you have to put your heart out there on the line. I know that as much love as you give out to strangers, lovers and acquaintances will never come back to you in the same form or quantity. But it WILL come back. All you need to do is honestly love others and SHOW them it every morning and every night and you can start and end your day with love. No pie required…
Images via
Previous: Two Facets of my Disease
Next: Can't Buy It. Can't Read It In A Book.

Leave a Reply
-