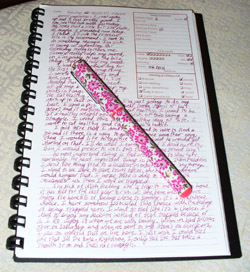 Part of the reason I have enjoyed so much success with Overeaters Anonymous is because of their tools of recovery. You can read more about them here:
Writing is something I do every day. I write in my journal. I write here. I write for other blogs. I write fiction. I am literally writing all day long, but writing about my eating problems specifically is the crux of this tool and it has helped me so much.
When I was working through the steps with my sponsor, she would assign writing to me every time we talked. It was amazing to me how much this helped me work through my emotions and the things that drove me to binge. Even now, I write a daily Step 10 and email it to my sponsor and I'm shocked at how answering those questions helps me feel better.
In larger cities, there are even meetings that use the tool of writing. In SLC, I attend one that reads from the big book for a while and then gives us ten minutes to write what we feel about the passage we read and then we share what we wrote. It is an inspirational meeting that never fails to make me feel better and less likely to eat the world.
Because I am a writer, I am particularly partial to this tool of recovery. I do it every day and it's easy for me. If you haven't tried it in your recovery, I suggest starting slow by setting a timer for five minutes and write constantly during that time. Don't let yourself stop writing, even if you just write the words, "I don't know what to write." Keep going and you will eventually write something helpful to you. Do that every day for a week and the next week up the time to ten minutes. I personally write until I fill one page in my journal and I'm surprised at how much good comes from it every day.
Try using the writing tool in your recovery and you will find your days are filled with joy instead of constant eating.
---
Overeaters Anonymous does not endorse anything on this entry or blog.
Previous: The Tools of Recovery: Telephone
Next: The Tools of Recovery: Literature

Leave a Reply
-