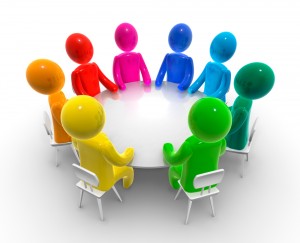 Part of the reason I have enjoyed so much success with Overeaters Anonymous is because of their tools of recovery. You can read more about them here:
MEETINGS! I was familiar with meetings! I had been going to Weight Watchers meetings for over a decade with little result. They told me to keep coming back and I kept coming back and I still didn't lose weight. I was perfectly willing to devote myself to OA meetings. I was already in the habit of getting my butt in the door. I merely had been walking through the wrong door for the last ten years.
OA meetings are different than Weight Watchers meetings. OA meetings are even different than each other. Some of them are organized and regimented. Some of them remind me of a disorganized bunch of hippies. Some of them flirt with organization like a coquette. Some of them have leaders who are in charge every week. Some of them have a different leader each week. Some of them wander through the meeting with seemingly no leader until you realize that everyone there is so familiar with their style of meeting that they don't need a leader at all.
No matter how organized or leadership driven, I have found peace and hope in every meeting. I've attended huge meetings in Las Vegas, tiny meetings in rural Utah and more meetings in Salt Lake City than I can count. They are all different, yet they have all helped me in some way.
There is one thing the meetings CAN'T do. They can't work the steps for you. You have to do that on your own with a sponsor. Even Twelve and Twelve meetings that talk about the steps and traditions of OA don't work the steps for you. You have to do that work on your own. The meetings will support your work, but they can't do it for you. They aren't enough on their own. That's why they are only ONE tool of recovery.
For most people, their first step into OA happens at a meeting. If you are interested, you can find one here: Find a Meeting – Overeaters Anonymous
---
Overeaters Anonymous does not endorse anything on this entry or blog.
Image via: INWCC REVEAL14 Planning Meeting | IIDA – International Interior Design Association
Previous: The Tools of Recovery: Sponsorship
Next: The Tools of Recovery: Telephone

Leave a Reply
-