I saw the ad on the corner of the screen. I can't even remember where I was on the vast chasms of the Internet, but I saw it there: an ad for Self Magazine.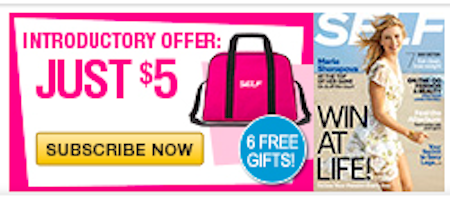 I was surprised when I saw it because I wasn't attracted to it. The inexpensive price for the subscription didn't attract me. The six free gifts didn't attract me. Not even the gym tote attracted me. None of it drew me nearer.
But that somehow seemed wrong.
Usually, when I am losing weight, I am DESPERATE for positive motivation. The last time I weighed as little as 180.6 pounds, I was subscribed to no less than THREE health and fitness magazines and I read TONS of blogs and thinspiration sites online. I have lost 51 pounds and I don't feel any attraction to purchase a subscription to any of those magazines.
I think the reason is that I now know they don't have the answer. They have diets. They have exercise moves. They have fluffy pieces that tell me how to wear makeup with glasses, but they never made me thin. I don't need a diet. I don't need exercises. With the bingeing in the realm of my Higher Power, I am able to lose weight slowly and healthily. No motivation required. I don't need magazines. I need meditation. I don't need thinspiration blogs. I need outreach phone calls to other OA members.
This is nothing short of amazing to me.
In fact, I suspect that health and fitness magazines and all of those thinspiration blogs I read were another facet to my disease. If I find those magazines and their promises to drop a dress size in a week alluring, that's an indication that I might be in trouble. Just like cravings for binge foods is a warning that something is wrong in my life, maybe attraction to those magazines is the same. Instead of buying a magazine, I need to analyze my feelings and see which one of my character defects have popped back up.
I am so grateful to the OA program. It has helped me in countless ways. Not only am I healthier and losing weight, I am happier, calmer and less insane in my every day life.
---
Overeaters Anonymous does not endorse anything on this entry or blog.