This postcard from PostSecret reminded me of how I stayed in my addiction to food for so long.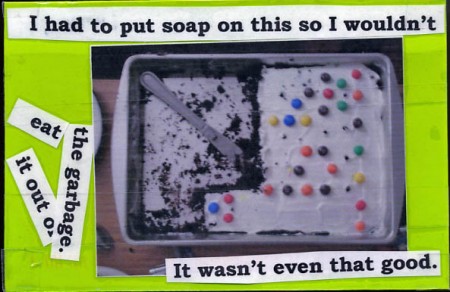 It reads:
I had to put soap on this so I wouldn't eat it out of the garbage. It wasn't even that good.
I knew that putting soap on food was a sign of disordered eating. I remember throwing away cake and thinking, "See, I'm not that bad. I can throw away cake and not have to soap on it like those poor people who are binge eaters."
It was a way that I tricked myself. I wasn't a binge eater because I could throw away food without getting it out of the garbage. Of course, nothing was stopping me from going to the store and buying another cake, some Reese's Peanut Butter Cups and a bag of Munchos. And I did…
The worst part of that postcard is the last sentence:
It wasn't even that good.
THAT is the wretched betrayal of this disease. The longer we live in it, the less dopamine charge we get from bingeing, so foods that used to taste divine don't taste as good as they used to. They start to taste bland and we are ever-searching for a better dessert or salty snack.
I can't believe how many lies I told myself about my binges. Just a few months ago, I would have smugly nodded at this postcard, not realizing that disordered eating comes in many shapes and sizes. Just because I refuse to eat out of the garbage can doesn't mean that I'm not a binge eater.
The telling aspect of this disease is that last sentence. Wanting to binge and when I did, it didn't even taste that good, is THE definition of the biological problems that occur with binge eating. If you are noticing this trend in your eating, get some help, because this problem only gets worse the longer you have it.
---
PostSecret's beneficiary is the National Hopeline Network. It is a 24-hour hotline (1 (800) SUICIDE) for anyone who is thinking about suicide or knows someone who is considering it.
Previous: What If You Could Use 100% of Your Brain Capacity?
Next: It's Never About The Food

Leave a Reply
-