I saw this Nike ad on Do it | We Heart It and it really confused me.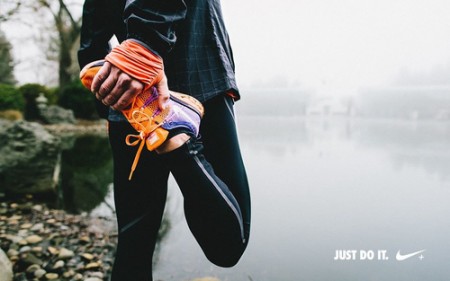 The first thing I thought was,
Just do it? What? Run on water?!
And then I got a little angry at Nike, thinking,
Yeah, they think they're God. They think they can run on water.
All of this shuffled through my head so quickly that it almost immediately reverted to what it was meant to be, inspirational, but that thought about God, still irked me.
Honestly, I've acted like I'm Queen of the World for so long that I almost thought I was God. I thought I could run on water.
Well…
I CAN run on water, as long as it's less than 32 degrees outside and I'm really, really careful…
Anyway, I've been working on my humility lately. I'm trying not to think that I am God. I'm trying to keep myself humble. It's super hard and I pretty much screw up every, stupid day. Seeing this poster just made me think that I've been a little too proud of every single workout I do.
Previous: Make Yourself A God Box
Next: Don't Forget To Sleep

Leave a Reply
-