Ever since I was a little kid, people have been saying, "There is no magic pill that will help you lose weight." No matter how often they say it, I see new diet pills come and go on the market over and over.
Here's a diet pill that REALLY works:
EXERCISE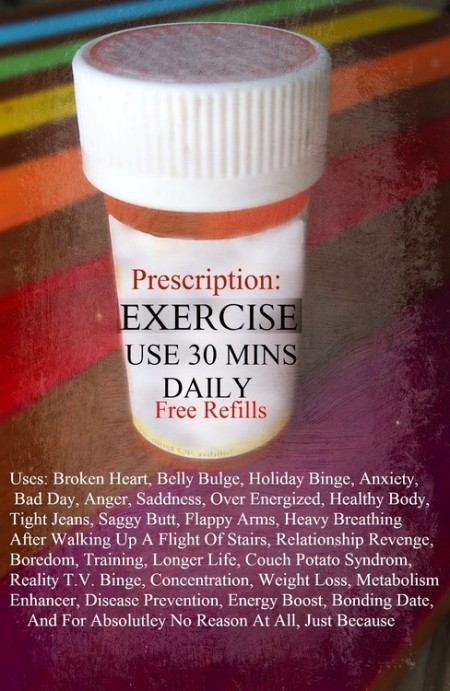 It reads:
Prescription: EXERCISE

Use 30 minutes daily. Free Refills

Uses: Broken Heart, Belly Bulge, Holiday Binge, Anxiety, Bad Day, Anger, Sadness, Over Energized, Healthy Body, Tight Jeans, Saggy Butt, Flappy Arms, Heavy Breathing After Walking Up A Flight Of Stairs, Relationship Revenge, Boredom, Training, Longer Life, Couch Potato Syndrome, Reality TV Binge, Concentration, Weight Loss, Metabolism Enhancer, Disease Prevention, Energy Boost, Bonding Date, and for absolutely no reason at all, just because.
I would also add that it's great for breaking down the mental barriers to meditation. It's FAR easier for me to meditate and get that self-transcendence feeling when I exercise right beforehand.
The next time you are wishing for that magic pill that just makes you skinny, throw on your running shoes and take a run or walk around your neighborhood. Nothing like a little physical activity to dispel the depression and start the blood pumping.
Image via: work sweat achieve
Previous: One Day This Pain Will Make Sense To You
Next: Change Is In The Challenge

Leave a Reply
-