I saw this motivational quote on Fit Facts the other day and it really hit home for me.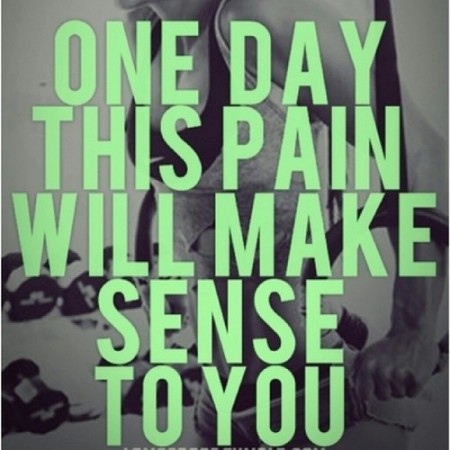 It reads:
One day this pain will make sense to you
This is such a good thought for EVERYTHING. Sure, it explains away the muscle soreness with an eye on the final outcome, but the truth is, there is a lot more pain in this world than simple muscle soreness.
How about the pangs of hunger? Feeling hungry is worth the benefit of eating less in the long run. As long as I am eating three healthy meals a day and 2-3 snacks, there is NO risk that I am starving myself, so if I feel hungry, that means it's not real hunger. Suffering through the pain of hedonic hunger is definitely worth the outcome and it will all make sense when I am at goal weight.
How about emotional pain? It's never wise to go searching for relationships that hurt your feelings, but after experiencing heartbreaking pain, I can sincerely say that it was worth it. I can look back on those heart-wrenching moments and I now know that each one was worth it. It hurt when it happened, but the perspective of now has shown me that it was all to my benefit. Does that emotional pain of my past make sense now? You betcha!
Even the spiritual pain that I experienced makes sense to me now. The years of feeling no connection to that spiritual part of my brain showed me that I didn't want to live that way. I didn't know it then, but that feeling that said to me, "I want to go home," was trying to tell me that something was missing. It wasn't home. It was accessing that part of my brain that gives me all those feel-good spiritual chemicals I was missing. Once I started meditating regularly again, I had full access to that part of my own physiology. All the pain of isolation from it for years sincerely makes sense to me now.
The next time you are suffering, whether it's physically, emotionally or spiritually, remember that one day this pain will make sense to you. Do what you must to relieve the pain. Don't go searching for it, but if you are in pain, it will become a pristine and clear moment of clarity some day in the future.
Previous: Daily Meditation
Next: The Magic Pill

Leave a Reply
-