We had a heinous drive down to St. George this last weekend. I was driving a big truck and my husband was following behind me in our car, hauling the camper. That would have been stressful enough on its own, but there was a torrential rain interfering with that drive that put my nerves on edge.
It was just the kind of thing that has caused me to binge in the past.
We stopped for gas in Parowan at a truck stop. I looked around the store because my alarm for dinner had gone off over a half hour ago. I was hungry and stressed, but everywhere I looked, there was food that made my intestines bleed. Bread, bread, everywhere and not a bite to eat. I was seconds away from a meltdown when I took a deep breath and decided to let Mike decide what I should eat because he wasn't crazy like I am.
The second I decided to hand over the decision for food over to someone else, I saw it in the fridge section. It was called P3.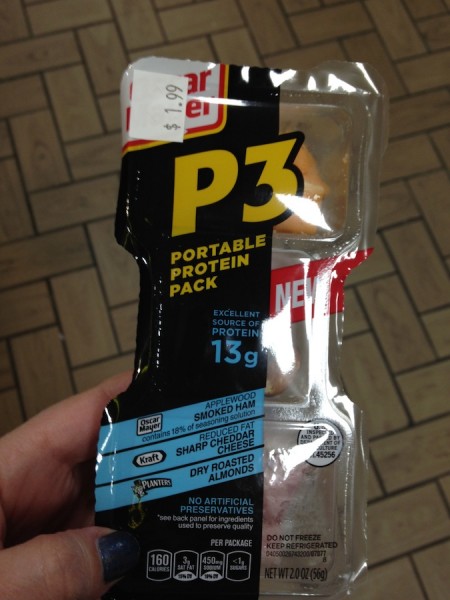 It was a bit of cheese, a bit of ham and some almonds. Not too much food, just enough protein to keep me fed and from freaking out. And all that for only 160 calories. It's made by Oscar Mayer and finding it felt like a Truck Stop Miracle.
Previous: Thirty Minutes of Prep – One Week of Serenity
Next: Keurig Coffee Pods: Sendin' U Packin'

Leave a Reply
-