Just a few days ago, Samsung showed the world their Gear Fit. It's a watch, heart rate monitor, fitness tracker and mp3 player. Here is a video showing it here:
It has customizable screens and bands that are easy to change out.
It looks awesome, doesn't it? In fact, it almost becomes the watch of my dreams that I've spoken about on The Gadgets Page: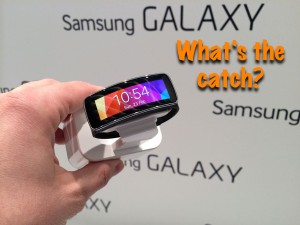 It's the watch I've been waiting for almost a DECADE. So, what's the catch?
The catch is that it doesn't work with my iPhone. The catch is that it only communicates with 20 Samsung devices. The catch is that I would have to figure out how to get music on the damn thing because it doesn't work with iTunes. The catch is that it is so integrated into the Samsung world that it is completely useless to me.
It's pretty, Samsung, and you did a good impression of the Apple presentation style, but it's not going to fly.
Previous: National Eating Disorders Awareness Week
Next: Vysera-CLS: Not Worth It

Leave a Reply
-