I saw this image of Victoria's Secret model Karolina Kurkova on Funeral For My Fat and I'm ashamed to say that the first thing I noticed was the cellulite on her legs.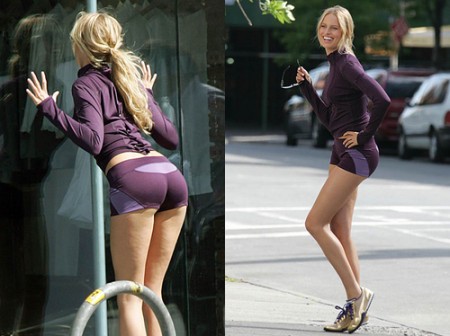 If a Victoria's Secret model has cellulite, then it is NORMAL for women to have cellulite. The idea that we're NOT supposed to have it was created by all those companies who are making anti-cellulite creams and drugs and rubs and wraps.
Don't buy ANYTHING that promises to remove cellulite. It's a NORMAL aspect of women's bodies and does not need to be eradicated. It's like saying that you have unsightly hair on your head. Love your little leg lumps and let's hope that someday everyone will be able to look at that picture and realize that it's Karolina Kurkova looking PERFECT!
Previous: Lose An Hour Gain A Mile
Next: Artificial Images

One Response to "Victoria's Secret Model Karolina Kurkova Looking PERFECT"
Dina Says:
February 13th, 2014 at 11:17 am

Hilarious, that's the first thing my eyes caught before moving to the text. I personally think that's me projecting, but we're all so hypercritical these days, even if we don't want to be, who knows. Could not love those purple short shorts more. They are super cute.
Leave a Reply
-