I love this motivational poster I found on run, eat, relax.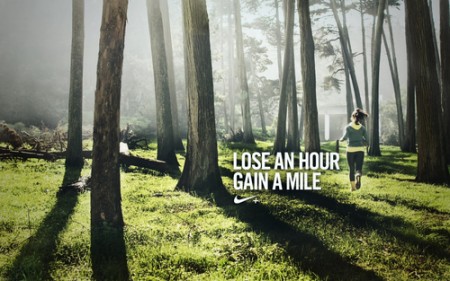 It reads:
Lose an hour Gain a mile
I really miss being able to run outdoors. We live near a beautiful lake and while it's possible to go for a run out there, the temperature is at 38 degrees right now, so it's miserable. I miss those nice weather runs where everything is gorgeous and there is a lovely sight to be seen around every corner. I know they'll come back in a month and a half, but it's hard to wait.
Until then, I'll print up this poster and put it in front of the treadmill. I can pretend I'm in a lush forest while I gain my miles.
Didn't even realize until this very second that if you run a mile in one hour, that's REALLY slow. That's even slow for walking. Still a good thought, though.
Previous: Eat Train Sleep Be Humble
Next: Victoria's Secret Model Karolina Kurkova Looking PERFECT

Leave a Reply
-