I saw this image on Funeral For My Fat and I had to know what was going on.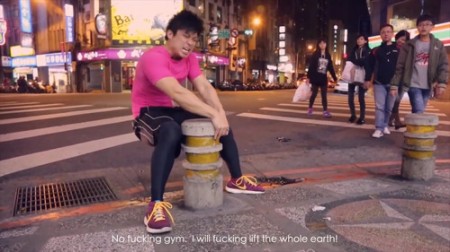 It reads:
No f-ing gym. I will f-ing lift the whole earth!
It looked so strange that I had to watch the video that it came from, a video on YouTube called "Chinese New Year St. Rampage"
As funny as that temper tantrum was, he actually got a pretty good workout from it. There was one time in my life when I asked, "Does anybody love their gym that much?" Apparently, one guy does.
Previous: A Travel Exercise: Burpee Sandbag Row
Next: Trust Your Power

Leave a Reply
-