I was fascinated by this animated GIF I found on Funeral For My Fat: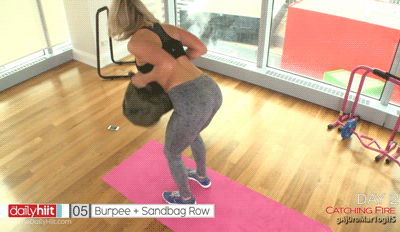 When I looked at it, it looked like she had a suitcase/duffle bag in her hands, and I imagined myself doing that exercise in a hotel room. This exercise has a complete perfection to it as far as travel is concerned: quiet, full-body, and uses items on hand.
Of course, it's FAR too intense for me right now, but it was nice to watch it and imagine a day when a workout like that would be something I could actually do.
The next time you use the fact that there is no gym in your hotel as an excuse to let your fitness regime fall by the wayside, remember this quick and simple (but not easy) exercise. Don't let excuses get in your way.
Previous: S2H Replay: What Went Wrong
Next: No Gym? I Will Lift The Earth!

One Response to "A Travel Exercise: Burpee Sandbag Row"
Dina Says:
February 13th, 2014 at 11:25 am

I've got one of those sandbags, I love it! It's really durable and has interior bags for the sand, but I just put in white rice. I still refuse to do burpees, though. 😛

Not sure if a duffel would be durable enough for those burpees, but def durable enough for mock deadlifts, and for holding against your torso during squats, etc.

I really like little bits of home equipment like that, which I can use in small bits of time.
Leave a Reply
-