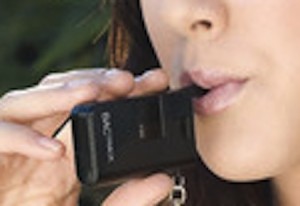 I found a study at IOPScience that describes a breathalyzer that measures the amount of acetone in your breath.
According to them, acetone is a by-product of fat burning and excreted through your breath.
Acetone contained in our exhaled breath is a metabolic product of the breakdown of body fat and is expected to be a good indicator of fat-burning.
They can measure this with huge spectrometers, but that would be too difficult to carry around with you, so they have developed a small device that works with your smartphone to analyze your breath.
Here, we prototype a portable breath acetone analyzer that has two types of semiconductor-based gas sensors with different sensitivity characteristics, enabling the acetone concentration to be calculated while taking into account the presence of ethanol, hydrogen, and humidity. To investigate the accuracy of our prototype and its application in diet support, experiments were conducted on healthy adult volunteers. Breath acetone concentrations obtained from our prototype and from gas chromatography showed a strong correlation throughout the experiments. Moreover, body fat in subjects with a controlled caloric intake and taking exercise decreased significantly, whereas breath acetone concentrations in those subjects increased significantly. These results prove that our prototype is practical and useful for self-monitoring of fat-burning at home or outside. Our prototype will help to prevent and alleviate obesity and diabetes.
This study was sponsored by NTT Docomo, the largest mobile phone provider in Japan, so the idea that your phone could tell you if you are burning off fat may be a reality in the near future.
But is this information helpful?
At this moment, I would say no, but, way back when, I said the same thing about wearable fitness technology, which I ADORE now. More data certainly opened my eyes to my slug-like ways as far as activity is concerned. Perhaps something like this would help me know more about my body.
Or, perhaps it would be just a distraction. I can't tell right now, but I am excited to see this fat burning breathalyzer show up on the market.
Image via: BACtrack Keychain Breathalizer
Previous: The Science of Addictive Food
Next: Ambiance App for Meditation

Leave a Reply
-