This season of the Vampire Diaries, has been so enjoyable. One of the "evil" vampires we've come to love, Katherine, was made human at the end of the last season and dealing with her humanity has been interesting. This scene, in particular, made me laugh my head off.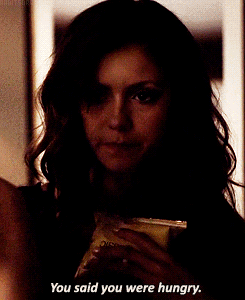 "You said you were hungry."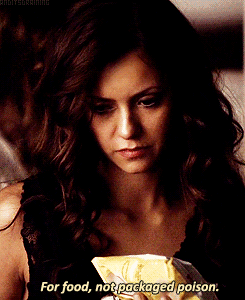 "For food, not packaged poison."
I thought to myself, I should make an animated GIF of that, but thankfully, She is electric, can I be electric too? did it for me! Katherine's descent back to humanity has been coupled with an insatiable desire to EAT.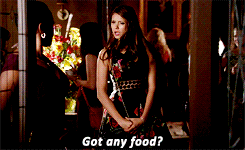 The scene where she is literally eating her way through the buffet line is priceless: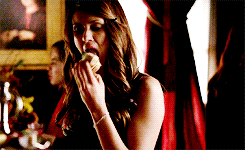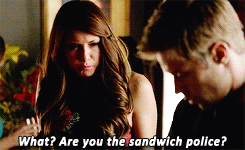 The truth of the matter is, my hunger response, just like Katherine's, is BROKEN. I feel hungry all the time, but the more REAL food I eat (with protein, fat and a little carb), the better I feel. Additionally, eating every two and a half hours when my alarms go off (and NOT eating in-between), really helps me beat that out of control hunger. I still may have that hunger, but I tell myself, "I can wait an hour…"
The next time you feel like Katherine in her newly human form and want to eat your way through the buffet line, remember to eat REAL food, not packaged poison.