I love this motivational poster that I found on That ARThletic Girl's site.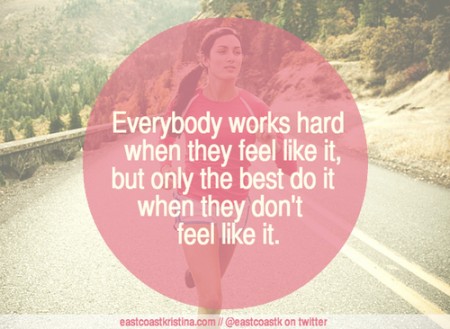 It reads:
Everybody works hard when they feel like it, but only the best do it when they don't feel like it.
I have been following this mantra for a while now. I've hurt myself in a bunch of little ways: my foot had plantar facitist, I slightly ripped my hamstring, and a bad pair of shoes gave me blisters on my heels. Despite those injuries, I have found a way around them by walking or riding the exercise bike.
In fact, I just looked at my log and I haven't missed a day exercising for five weeks. Some days I had to take it easy and just walk, but I didn't just abandon my workouts. I modified them to accommodate my problems.
If I can do this, then you can as well. If you're tempted to skip your workout, remember me, limping along with a torn hamstring. The best workout even when they don't want to.
Previous: Athletic-Induced Endorphins
Next: Just Stick With It

Leave a Reply
-