This postcard from PostSecret made me so sad.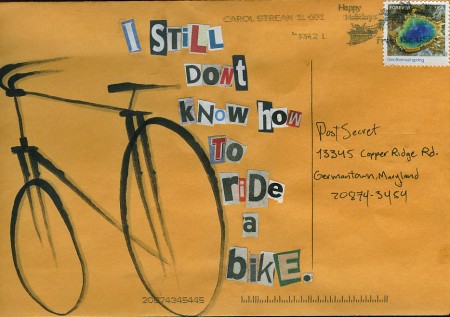 It reads:
I still don't know how to ride a bike.
When I read it, I suddenly remembered all the exhilarating times I've had on a bike:
When I was eight years old and first learned how to ride a bike by falling over and over until I didn't all anymore. I remember showing my dad and grandpa that I could ride that huge, antique bike from my grandma's garage and they were so impressed and amazed because I could barely get on the thing and had to stand on the curb just to be tall enough to get on the seat.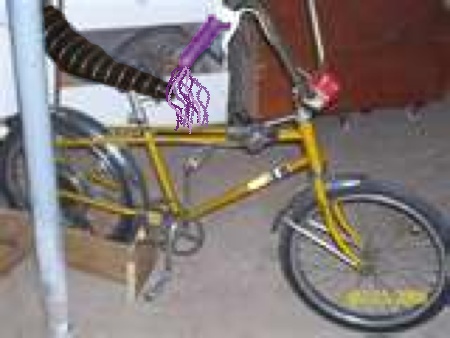 When I was ten years old and finally learned how to ride with no hands on my Frankenbike that my dad made for me from two broken bikes he bought from the DI. [not a picture of my actual bike, just a mockup I made to describe it]

When I was twelve years old and my mom let Chelly and me ride our bikes to Skateland West all by ourselves. Suddenly a bike represented freedom to me. I felt like I could ride it anywhere.

When Mike and I saved up for our first mountain bikes when we lived in Stonehedge. I loved riding it home from Westminster down that huge hill. By the time I got home, the muscles in my legs were throbbing.

When I finally got a bike that actually fit me in preparation for an epic bike ride.

When my friends flaked on the epic bike ride, I did it all on my own anyway, riding all the way to Lagoon from my house.
My heart aches for that person who never learned how to ride a bike. If you are one of those people, then get out there and DO IT! I have had so much joy from riding my bikes over the years and I am wishing all that joy for you as well. The skinned knees and elbows are WORTH it!
---
PostSecret's beneficiary is the National Hopeline Network. It is a 24-hour hotline (1 (800) SUICIDE) for anyone who is thinking about suicide or knows someone who is considering it.
Previous: Time To Photoshop My Life
Next: All Our Dreams Can Come True If We Have The Courage to Pursue Them

Leave a Reply
-