I ADORE this motivational poster I found on MotiveWeight!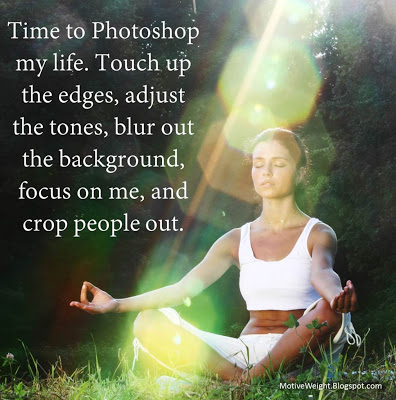 It reads:
Time to photoshop my life. Touch up the edges, adjust the tones, blur out the background, focus on me, and crop people out.
I really wish meditation worked like this for me, especially the "crop people out" concept. My mind is so fleeting that I have never really been able to train it to calm itself when I am meditating.
Lately, I've tried directed meditation. I've written my vision for what I want in my life and each day, in my neatest handwriting, I re-write it. I spend about ten minutes consciously focusing on what I WANT from my life. It's one of the few times in the day when I don't think about what I DON'T want in my life.
It's the closest I've ever gotten to being able to crop people out of my life, if only because there is no room for them when I'm focusing so intently on what I DO want.
If traditional meditation doesn't seem to work for you, you might want to try my technique:
Write a page explaining in detail what you want.
Make sure you cover all the aspects of your life: health, family, career and emotional well-being.
Write a few sentences for each of those things.
Make sure they are POSITIVE. Don't write what you don't want. Write what you DO want.
Each day, spend ten minutes or so re-writing that vision in your neatest handwriting, saying the sentences to yourself as you write them.
This technique has worked better for me than trying to quiet my "monkey mind." I just distract the monkey with shiny toys and concepts. If you have given up on meditation, try my technique and see if it works for you as well.
Previous: Adam Levine Loves Lettuce
Next: PostSecret: I Still Don't Know How To Ride A Bike

Leave a Reply
-