In my workout playlist, I have a song by Britt Nicole called Gold [iTunes link].
I absolutely adore this song and it made me feel so good when I was exercising. I love the lyrics of the chorus:
This, this is for all the girls, boys all over the world

Whatever you've been told, you're worth more than gold

So hold your head up high, it's your time to shine

From the inside out it shows, you're worth more than gold
Sometimes when I'm working out, I feel like total crap. I know you understand what I'm saying. Those exercise-induced endorphins don't always show up, even when you work really HARD for them. That's how I was feeling the day this song popped up on my shuffle play during my workout. The workout was still hard and I still wanted to stop, but I kept on running just because Britt told me that I was worth more than gold.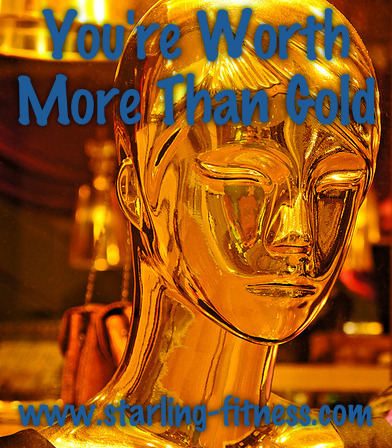 Original image via: Golden People love Gold Jewelry Robots by epSos .de on Flickr
Previous: I Will Beat Her
Next: Adam Levine Loves Lettuce

Leave a Reply
-