When I saw this motivational poster on Funeral For My Fat the other day, I didn't like it at first.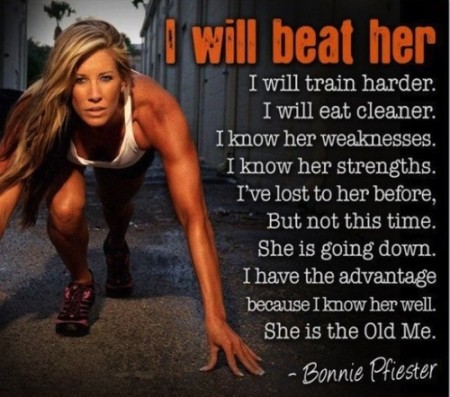 I read the first few words:
I will beat her. I will train harder. I will eat cleaner.
It sounded so competitive to me. There have been times when I have not liked how someone treated me and I hoped to be thinner and stronger than her, but this seemed FAR more than I had ever felt before. But, I kept on reading:
I know her weaknesses. I know her strengths. I've lost to her before, but not this time. She is going down.
She is going down?! I can't think of anyone who I feel like that about.
I have the advantage because I know her well. She is the Old Me.
OH! The OLD ME! Oh, yeah, I hate that bitch! That bitch made me fat. Yeah, she IS going down…
Previous: Five Steps To Avoid Over-Eating
Next: You're Worth More Than Gold

Leave a Reply
-