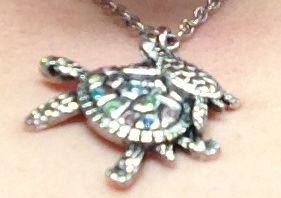 I've been wearing this turtle necklace lately to remind me that "Slow and Steady Wins The Race." The more I think about the fable of The Tortoise and the Hare, however, the more I think that everyone got the moral of the story wrong.
If you are unfamiliar with the fable of The Tortoise and the Hare, here is a brilliant Disney version of it:
Slow and steady wins the race only if the fast people dink around, get cocky and lose sight of their goals. What REALLY won that race is humility and determination. When the hare saw that he had a good lead at the first, he took a NAP! The tortoise was able to pass him. DON'T SLACK OFF!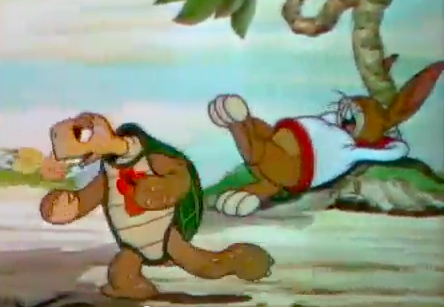 Later, when the hare saw that he was so far ahead of the tortoise, he started playing to the audience of adorable bunny girls. So the tortoise caught up to him. BE HUMBLE.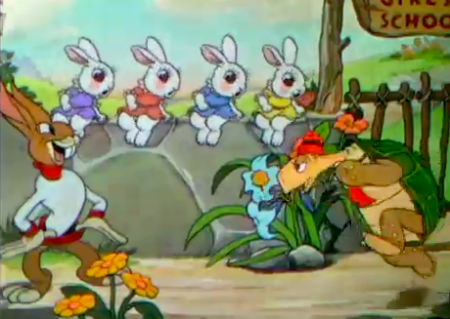 Near the end, the tortoise is so close to the finish line and the hare is still goofing off. I love this image of him working his hardest to win the race. WORK YOUR BUTT OFF!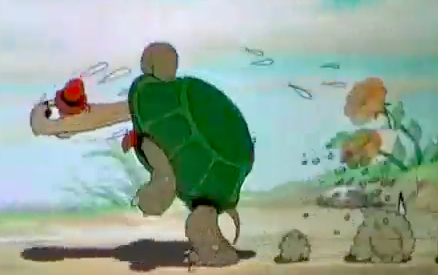 Finally, at the end of the race, the tortoise wins because he's willing to stretch himself almost out of his shell. STICK YOUR NECK OUT!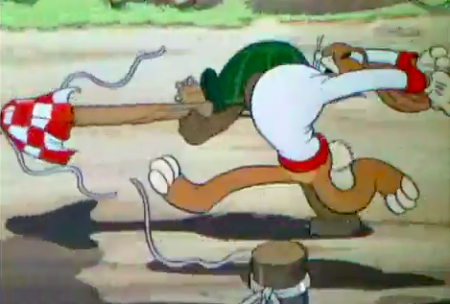 Wearing my little turtle necklace reminds me of all these things and every time I'm tempted to skip a workout, I think about that turtle sneaking by while the hare took a nap. Every time I get a little too excited about losing a pound or two, I remember that tortoise plodding along while the hare flirted with the girl bunnies. Every time I think about taking it easy on my exercise, I think of that turtle busting his tiny tail to finish that race. There is so much more to that story than "slow and steady wins the race," and I try to remember it all:
Don't slack off
Be humble
Work your butt off
Stick your neck out
Having a physical reminder of all of that around my neck really helps keep me on track. Here's a fancy version of my necklace here: Mother and Baby Turtle Diamond Pendant Necklace at Amazon.com. Here's a less expensive version: Mom and Baby Turtle Silver Blue Opal Necklace Pendant with Chain. Sometimes I wear this bracelet as well: Silvertone Turtle Link Magnetic Clasp Fashion Bracelet.
You don't need jewelry to remind yourself of your goals, but you do need SOMETHING. Whether it's a picture, a mantra or mannerism, you need to have something to remind yourself of all the things you want to be.
Previous: Don't Give Up
Next: Never Stop Trying

Leave a Reply
-