I found this image on LOSING THE WEIGHT, GAINING THE CONFIDENCE.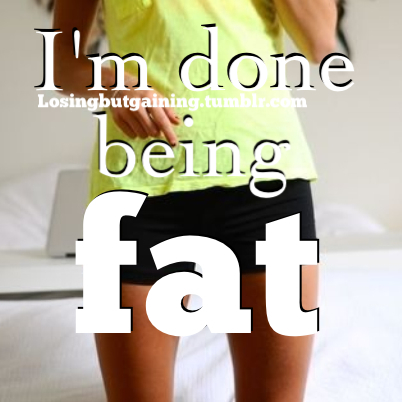 It reads:
I'm done being fat.
I understand that feeling. It usually happens when I'm at my FATTEST, not when I'm thin. I've been so close to ideal weight that I almost felt thin, but at that time, I never felt like I was "done being fat."
The moments when I am at my most aggravated and most angry with fat are when I'm the fattest. But, the words, "I'm done being fat," have two meanings. It can mean I am so frustrated with my body that I can't take being fat, but it can also mean that I'm thin now.
Sometimes I wonder if I will ever be able to say those words and mean that I am thin now and done being fat ever again.
Via: I CAN DO IT
Previous: Tough Times Don't Last. Tough People Do.
Next: LOL! Typing Thin Into Pinterest Doesn't Give Me The Results I Want!

Leave a Reply
-