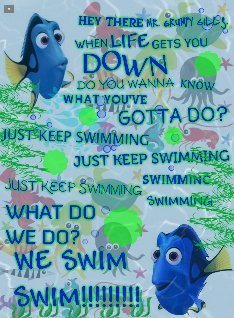 We're almost to spring and our New Year's Resolutions are three months old. It's time to remember that this isn't a sprint. It's a long distance run.
Working out every day and eating less calories than your body wants is HARD, but that's not an excuse to quit. You have to keep going!
Whenever I start feeling like I should want to quit, I remember Finding Nemo and Dori's continuous singing, "Just Keep Swimming!"
If you're not familiar with what I'm talking about, here is the video:
This image is the best because it's animated: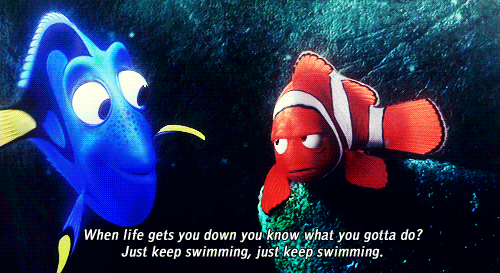 If you've been slacking off on diet, exercise or both, remember Dori singing this song and get back on track!
Images via:
Previous: Ran Sounds Better Than Run
Next: Eat Your Veggies Before They Eat You

Leave a Reply
-