I don't know how I found this television series. I think it might have been a YouTube featured video, but I am so glad I found it. My Mad Fat Diary is a British TV series that started in January of this year and it treats eating disorders so spot on that I just couldn't stop watching.
This scene is from the second episode and it is brilliant.
This show has really become a battle cry for self-acceptance and I just love it. So does arthlete. She has drawn quite a few of Rae-focused illustrations, but this one is my favorite: Arthlete: Rae and My Mad Fat Diary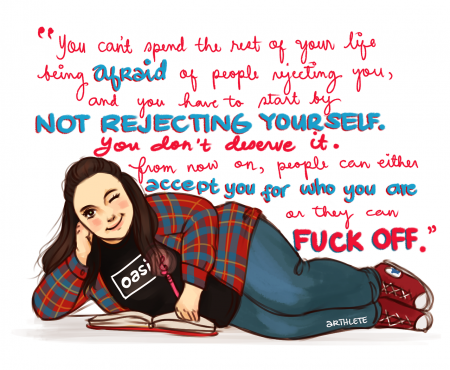 It reads:
You can't spend the rest of your life being afraid of people rejecting you, and you have to start by not rejecting yourself. You don't deserve it. From now on, people can either accept you for who you are or they can FUCK OFF.
I can't really show you any of her other illustrations, because they are spoilers.
You can see the entire first season here, but be careful. Space the episodes out so that you don't consume them in a huge binge like I did.
Previous: Water Will Always Be Good For You
Next: You Don't Have To Be Great To Start

Leave a Reply
-