This motivational poster made me chuckle to myself.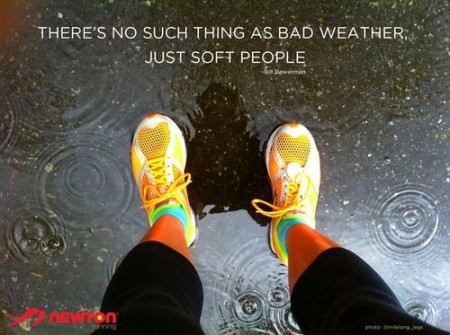 It reads:
There's no such thing as bad weather, just soft people.

-Bill Bowerman
I found it funny that the photo for "bad weather" shows a bit of water on the ground with a few drops of rain. The bad weather in Salt Lake City right now is freezing temperatures, icy sidewalks and an inversion so thick that they have been recommending people carpool, take public transit and stay home just to limit the pollution in the air.
Now THAT is bad weather.
Yet, it's still not an excuse. When there is a mall to walk (or run) around, there are no icy sidewalks to worry about. When there is a community fitness center, there are no freezing winds ripping into my cheeks. When there are stairs in my home, there is no inversion to clog my lungs.
Don't believe those excuses that pop into your head. Find a way to get your workout in and you will be one of the inspirational ones. You'll be one of the strong ones that the soft people look up to.
Motivational poster via: Healthy Is Classy
Previous: Success Doesn't Happen Overnight
Next: Sweat Is Liquid Awesome

Leave a Reply
-