This video from Jenna Marbles is commenting on this article:
Aytug said women's associations should protest the Games and added that it was enough for him to "take a look at female swimmers" to reach that opinion.

"Broad-shouldered, flat-chested women with small hips; [they are] totally indistinguishable from men. Their breasts – the symbol of womanhood, motherhood – flattened into stubs as they were seen as mere hindrances to speed," Aytug said. "I am not even talking about female javelin throwers, shot-put athletes, weightlifters, wrestlers and boxers," Aytug said. "Their appearance is just pathetic."
If you don't want to watch the whole video, here's the gist of it: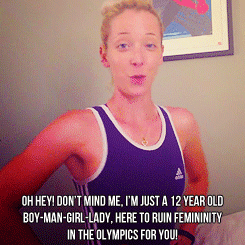 Oh hey! Don't mind me. I'm just a 12 year old man-boy-girl-lady, here to ruin femininity in the Olympics for you.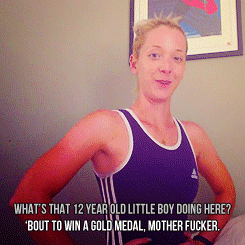 What's that 12 year old little boy doing here? 'Bout to win a gold medal, m-er, f-er!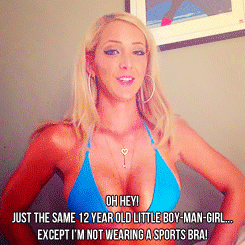 Oh hey! Just the same 12 year old man-boy-girl-lady… except I'm not wearing a sports bra.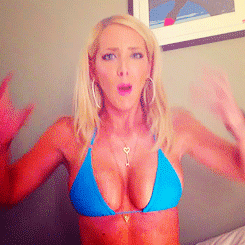 Jenna is spot on. When we work out, we are there to do just that: WORK! A sports bra is very helpful in keeping everything in place when we are physically active. We're not there to be ogled. We're not there to turn you on. We're there to break records.
Don't let Aytug or any other person judge you based on your sexuality. You're at the gym to kick some ass, not to be a piece of one.
Via: I CAN DO IT
Previous: Why Are Gym Posters So Expensive?
Next: How Diets Work

One Response to "Are The Olympics Ruining Womanhood?"
Glenn Says:
June 7th, 2013 at 11:42 pm

Oooooookay
Leave a Reply
-