I love these animated GIFs of Sarah Millican!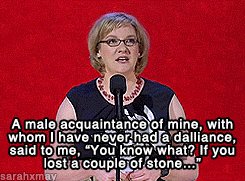 A male acquaintance of mine, with whom I have never had a dalliance, said to me, "You know what? If you lost a couple of stone…"
Lost a couple of stone means lost about thirty pounds, for all you U.S. readers…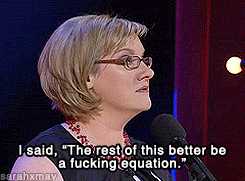 I said, "The rest of this better be a f-ing equation."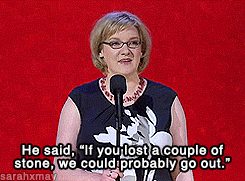 He said, "If you lost a couple of stone, we could probably go out."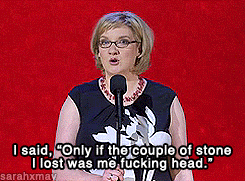 I said, "Only if the couple of stone I lost was me f-ing head!"
THANK YOU, Sarah Millican! Don't ever let anyone judge you based on the size of your body. That guy was a class A jerk!
Via: WIL WHEATON dot TUMBLR, laughterkey: anothertroy: best. I LOVE Sarah…
Previous: Katherine Hepburn Skateboarding in 1967
Next: You Can Always Be Thinner, Look Better

Leave a Reply
-