The most interesting thing about this Breakfast Burrito from Finding My Fitness is the egg white tortilla.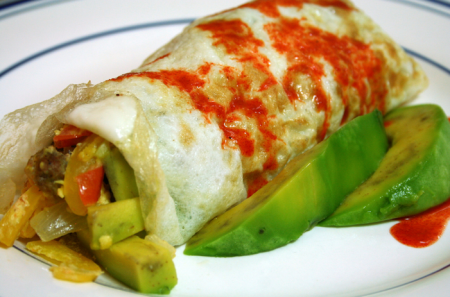 Does it actually work? Does it hold the burrito together so well that you can eat it with your hands, or do you have to use a fork? The blog entry doesn't clarify, so I guess I'll have to try it myself.
Ingredients
4 eggs, whites and yolks separated
1/2 onion, finely chopped
1 to 2 tomatoes, finely chopped
1/4 cup canned diced green chiles
1 red pepper, cut into strips
1/4 cup finely chopped cilantro
1/2 cup cooked meat (try sliced steak, ground beef, or shredded chicken)
1 avocado, cut into wedges or small chunks
hot sauce or salsa on the side
Directions
Whisk the egg whites
Warm a lightly oiled 10-inch skillet. Pour half of the egg whites in the pan, swirling the pan around so the whites spread thinly and evenly. After about 30 seconds, put a lid on the pan and cook 1 minute more. Use a rubber spatula to loosen and slide the egg white "tortilla" onto a plate. Repeat once more with the remaining egg whites.
In the same pan, sauté onions with oil for one minute then add tomato, green chiles, red pepper, cilantro, and meat.
Whisk egg yolks and pour into the pan, mixing into a scramble with the other ingredients.
Add avocado at the very end, then spoon half of filling onto each egg white. Roll the egg whites up into burritos and serve with hot sauce or salsa.
Previous: Move In Ways You'd Never Expect
Next: Katherine Hepburn Skateboarding in 1967

Leave a Reply
-