I found this animated GIF at this summer and I just LOVE it!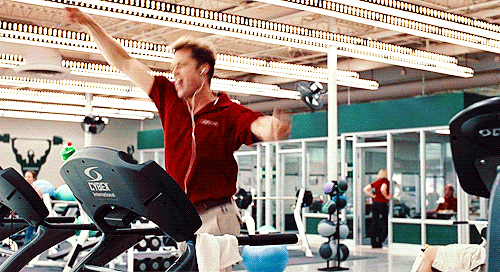 This scene is from the movie, Burn After Reading. I HATED that movie because of what happens to Brad Pitt's character, but at the same time, I kind of liked it. I really felt each of the characters represented one of the seven deadly sins.
Brad Pitt's character was eating ALL the time, so I really felt he represented gluttony. To see gluttony running on a never-ending treadmill really brings home the tragedy of that sin. In order to burn off the food, you must spend an inordinate amount of time exercising. This little GIF reminds me that it's better to get my gluttony under control rather than waste my life on the treadmill. I exercise every day to get strong, not burn off the food I eat.
Previous: Running Like A Kid
Next: The Men Who Made Us Fat Documentary

Leave a Reply
-