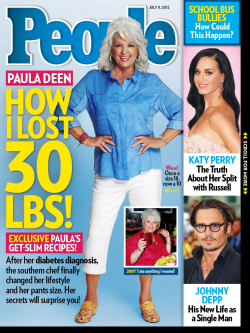 Paula Deen recently lost 30 pounds to help keep her diabetes in check. She talked about it on the July 9th issue of People Magazine, but the recipes that she shared were LOADED with carbs. I'm glad that she has lost weight and I hope her diabetes is controllable for her, but most of the things she recommended to lose weight with, like fruit smoothies, would send my blood sugar through the roof.
She did have one good recipe, though. Chicken Kebabs with grilled onions.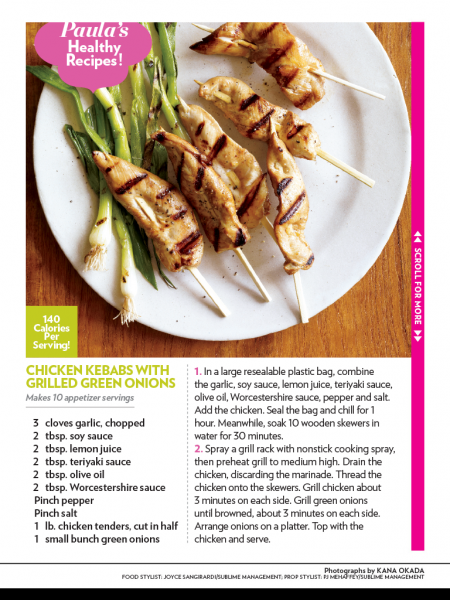 Ingredients:
3 cloves garlic, chopped
2 TBSP soy sauce
2 TBSP lemon juice
2 TBSP teriyaki sauce
2 TBSP olive oil
2 TBSP Worcestershire sauce
Pinch pepper
Pinch salt
1 lb. chicken tenders cut in half
1 small bunch green onions
Directions
In a large, resealable plastic bag, combine the garlic, soy sauce, lemon juice, teriyaki sauce, olive oil, Worcestershire sauce, pepper and salt. Add the chicken. Seal the bag and chill for 1 hour.
Soak 10 wooden skewers in water for 30 minutes.
Spray a grill track with nonstick cooking spray, then preheat grill to medium high.
Drain the chicken, discarding the marinade.
Thread the chicken onto the skewers.
Grill the chicken about 3 minutes on each side.
Grill green onions until browned, about 3 minutes on each side.
Arrange onions on a platter, top with the chicken and serve.
I wish Paula Deen the best and I hope she lives a long and healthy life. I just want the world to know that her love of butter did NOT cause her diabetes. It was the carbs.
Previous: Inspiration from Olympic Athletes
Next: Of Course It Burns…

Leave a Reply
-