On Pinterest, there is this picture of a chocolate and peanut butter protein bar that looks beyond delicious.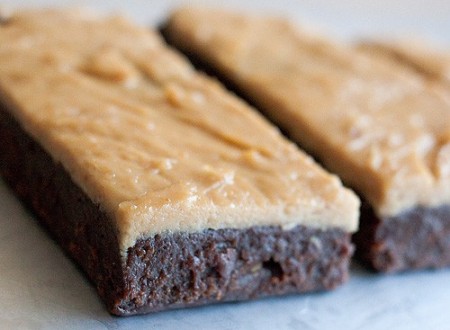 Unfortunately, when I go to the website to see the recipe, it's GONE.
As of this writing, the entire website is gone, so I looked to see if Google has anything in their cache to make these protein bars. They did!
Here's the recipe, just in case it disappears altogether:
Bar Ingredients:
1 2/3 cup (about 160g) chocolate protein powder (protein powder is already sweetened, so no need for extra sweetener)
1/4 cup peanut flour
2 Tablespoons dutch process cocoa
1/4 cup (2oz) unsalted butter
1/2 cup natural peanut butter (no sugar, no salt)
1/4 cup half & half
1/4 cup water
Topping Ingredients:
1/4 cup natural peanut butter (no sugar, no salt)
1 Tablespoon (0.5oz) unsalted butter
2 Tablespoons half & half
2 Tablespoons Splenda (or sweetener of your choice)
Bar Instructions
Line bottom of an 8×8 square baking pan with parchment. Set aside.
In medium sized bowl add protein powder, peanut flour, and cocoa powder. Set aside.
In small bowl add butter and peanut butter. Heat in microwave until melted, about 45 seconds.
Stir until combined.
Stir in half & half and water.
Mix wet mixture into your dry ingredients. Stir until smooth. (Batter WILL be VERY sticky!)
Pour into your prepared pan. Smooth evenly in pan with an offset spatula.
Set aside.
Topping Instructions
In a small bowl mix cream and splenda. Stir until splenda is dissolved. Set aside.
In small bowl heat peanut butter and butter in microwave until melted.
Stir in cream/splenda mixture to your peanut butter/butter. Mix until smooth.
Pour on top of protein bars and smooth evenly.
Finishing
Place pan in freezer for at least 1 hour to set.
Take out cut into 8 equal pieces.
Store in air tight container or baggie in freezer until needed.
Nutritional information for 1 bar:
Energy: 306 cal
Total Carbohydrates: 6.34 g
Total Sugars: 1.77 g
Fiber: 2.46 g
Protein: 23.65 g
Total Fat: 21.29 g
Net carbs: 3.88
I can't wait to try this and I hope Candice gets her website up and running again!
Previous: Fitness Inspiration Video
Next: Bad Day – Good Workout

13 Responses to "Candice's Low Carb Chocolate & Peanut Butter Protein Bars"
Leave a Reply
-