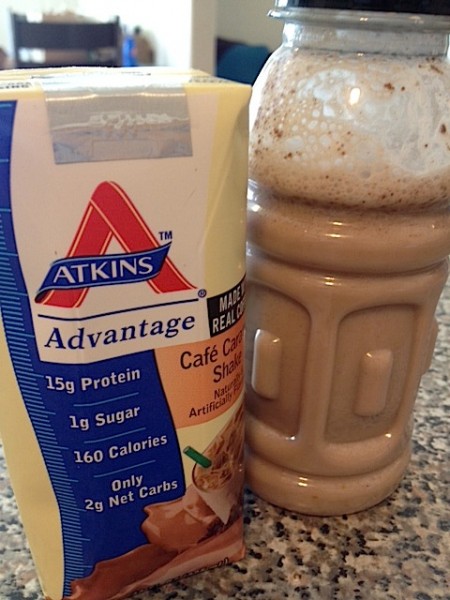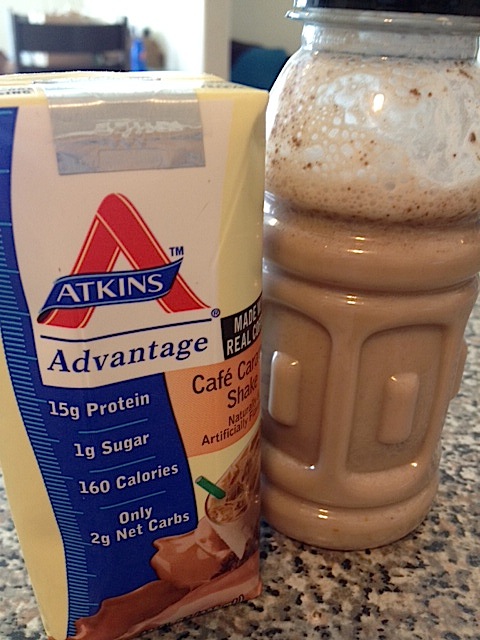 There is something in the Atkins low carb shakes that hurts my stomach. I have NO idea what it is, but it really doubles me over within an hour of drinking one.
Not to mention the fact that they just taste wrong. Sure, they're sweet and taste kind of like chocolate (or vanilla or caramel coffee), but they just don't taste as good as I'd like.
But I like to have a low carb shake to drink in the morning, so I set out to create one. After a little experimentation and a lot of worrying about why cocoa doesn't mix in with my almond milk, I finally figured it out.
Low Carb Shake Recipe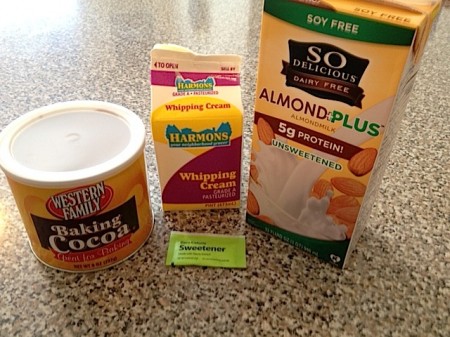 Ingredients:
1 cup unsweetened almond milk
1 Tbsp cream
1 tsp unsweetened baking cocoa
1 packet of Stevia (or saccharin, aspartame, etc.)
Bottle to shake it up and store it (these are old sport drink bottles, but anything with a lid will work)
Directions:
Add all the liquid ingredients into the bottle
Add the sweetener and cocoa
Shake vigorously and store in the refrigerator for at least thirty minutes
Shake before serving
Nutrition Facts: Calories: 99, Fat 8.8g, Total Carbs 4.1g, Fiber 1.9g (calculated by Spark People Recipe Calculator)
The Atkins Shakes have approximately 160 calories and about the same amount of carbs, so you really get a break in calories if you make your own.
When you first start shaking, you'll be shocked that the cocoa isn't mixing in well.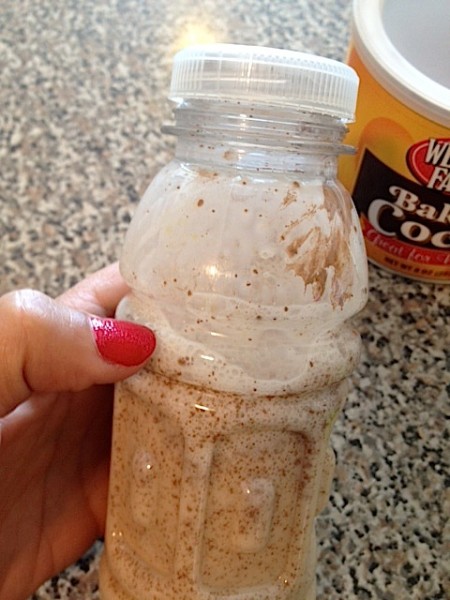 Don't worry. Keep shaking and then store it in the fridge for a while and it will all eventually mix in. I usually make these up the evening before so they have a couple of hours to integrate before I drink them.
One box of almond milk will make four shakes, so the cost for these is less than half what it would cost to buy the Atkins shakes. Plus, they taste better and don't hurt my stomach.
Other ideas for different flavors:
Make cinnamon or vanilla flavor by substituting 1 tsp cinnamon and/or 1 TBSP vanilla extract for the cocoa.
Use sugar-free coffee flavorings (like amaretto, hazelnut or even the fruity flavors like peach) to flavor your shakes.
Previous: Success
Next: Sweet Misery Documentary: Is It True or Bogus?

26 Responses to "Low Carb Shake Recipe"
Leave a Reply
-