I love this photo from Melissa's Running Inspiration Pinterest Page.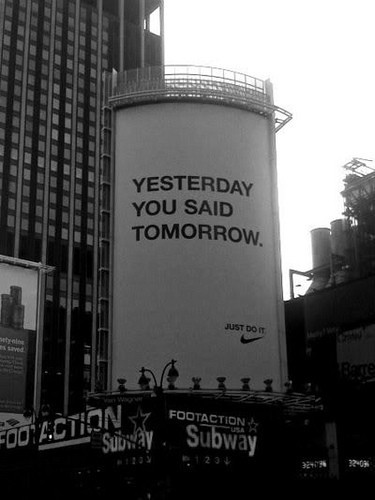 It reads:
Yesterday, you said tomorrow.
It's an advertisement for a hated brand of shoes and clothing, so I won't mention it here, but the sentiment is so motivating that I just HAD to post it here.
The next time you think, "I'll start my diet and exercise tomorrow," STOP yourself! Stop right there and start NOW. Do a quick twenty-minute workout. Plan your meals for the next day and even prepare your lunch so you won't have an excuse later. You can always do something NOW, so quit putting your life on hold until tomorrow.
Previous: Be Yourself? Worst Advice EVAR!
Next: Can You Make Ice Cream With Atkins Shakes?

Leave a Reply
-