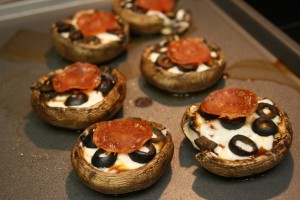 I was looking for something interesting to eat that was still low carb and I came across these Portabella Pizza Bites. The recipe was made all low fat, so they had to add an egg to help the low fat cheese melt. I took all that out and I'm going to make it FULL fat and low carb.
Ingredients:
6 mini Portabella mushrooms (or 2 large Portabella mushroom caps)
1/2 cup marinara sauce (Get the kind without any added sugar. Tomatoes have enough carbs on their own.)
1/2 oz. pepperoni (approx. 6 slices)
2 oz. black olives
3 oz. Mozzarella cheese
Directions
Preheat oven to 400 degrees.
Clean mushrooms and scoop out the insides and stem with a spoon.Place on baking pan and bake for 7 minutes.
While mushrooms are baking, grate Mozzarella.
Remove mushrooms from oven, and turn the broiler to High.
On the mushrooms layer pizza sauce, cheese mixture, olives, and pepperoni slices. Return pan to oven and broil on High for 3 minutes or until cheese has melted and started to brown.
I can't wait to try this on my own!
Recipe and photo via Portabella Pizza Bites – P90x Recipes – P90x Nutrition Plan » My P90x Nutrition Plan
Previous: Nothing Sweet
Next: Thinspiration or Anorexic Porn? I Can't Tell…

Leave a Reply
-