I found this story of a disabled veteran of the Gulf War, Arthur Boorman, who transformed himself using yoga to be very inspiring.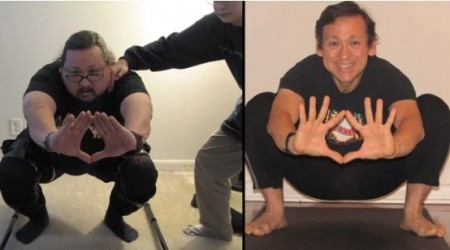 After watching the video, I found myself wondering what DDP Yoga was. Apparently, it's a DVD yoga program offered by Diamond Dallas Page, a former professional wrestler. The program seemed really expensive at $105 for the complete set. At my Five Buck Workout calculation, you would have to workout with those DVDs three times a week for almost seven weeks to make it worthwhile. It's hard to justify spending that much on yoga DVDs when you can buy so many different boxed set of yoga videos from Amazon for under $40.
Heck, you can even find full-length yoga workouts for FREE on YouTube. Here are a couple that might be good if you are just getting started out:
It's possible to transform your life, just as Arthur did, but you don't need to shell out over a hundred bucks to do it. Borrow yoga videos from the library, buy cheap yoga videos from Amazon, or even find free yoga videos on the Internet. Just like Arthur says, "Do not waste any time thinking you are stuck – you can take control over your life, and change it faster than you might think."
Via: Boing Boing: Disabled vet transforms himself though yoga
Previous: Zombies, Run! Makes Exercise Fun
Next: Don't Let Bowling Fears Stop You

One Response to "Arthur's Yoga Transformation"
D.M. Says:
May 10th, 2012 at 10:14 am

Are you sure that the freebies you listed will do the same as DDP Yoga? I stumbled across the DDP Veteran story. Well…stumble might not be the right word, as it's an article in most news publications all of a sudden. Went to the DDP site and saw the cost of the first set of DVD's was 69.95 if you make a one time payment. Not sure where your 105.00 calculation came from however. What is encouraged is the use of a heart rate monitor, also for sale at the DDP site for 69.95, if I recall right.

The incredible before and after photos are inspiring. I searched to see if you had to go on a special diet with the program. Didn't see that listed anywhere, did you? Dieting isn't my forte, but if I could get back some of my mobility and lose that kind of weight, it sure would be worth the cost. I'm unsure whether the other programs you listed would do the job that I'm seeing on the DDP website. I hope this is the real deal and will continue to research prior to a purchase.

Found your listings on the artificial sweeteners interesting too. I keep being told that drinking diet pop isn't doing me any favors in the weight department. I remember doing a stint at Weight Watchers and finally losing that craving for sugar. Still was drinking diet pop though. They even had reduced calorie OJ out there now, called Trop50. Wonder if Stevia falls under this umbrella too, as there is Stevia sweetened pop.

Nice articles and the two I referenced were right down my alley (not bowling!) for what I've been looking for today. Thanks.
Leave a Reply
-