For all you low-carbers out there, here is a great recipe.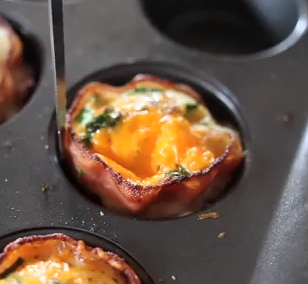 Ingredients:
1 package bacon
1 box of eggs
Shredded cheddar, crumbled goat cheese, or any cheese you like
Chopped herbs such as chives, dill, thyme
Directions:
On medium heat, fry bacon on a skillet until slightly browned on each side, but still pliable – don't let them get crispy
Drain on paper towels and let cool
Preheat oven to 400
Line muffin cups (or ramekins) with bacon slices, making sure to cover the bottom too (tear off chunks of bacon to fill the bottom)
Crack an egg into each cup
Add cheese on top
Sprinkle with herbs, salt and freshly cracked pepper
Bake until set, approx 15 min
Carefully run a knife around each to loosen from the cup and remove
Via: WIN!: Breakfast Cakes WIN – EPIC FAIL Funny Videos and Epic Fail Funny Pictures
Previous: A Year of Living Healthy
Next: Zombies, Run! Makes Exercise Fun

2 Responses to "A Low Carb Dream: Egg and Bacon Muffins"
jkstraw Says:
January 9th, 2012 at 5:45 pm

On a CKD diet – god bless you for this idea great treat!

Mel Says:
January 29th, 2012 at 3:09 am

Love this recipe! Thanks!
Leave a Reply
-